A French ensign from the famous WWII battleship 'Richelieu'.
This French ensign was formerly part of the collection of Wall Street financier, business man and promoter of Franco-American goodwill Calvin Bullock. His 1 Wall street offices in New York City contained world leading collections of memorabilia pertaining to Napoleon & Lord Nelson. In the 1930s he sought to collect Confederate Flags and during World War II he acquired a representative collection of US, British, French and other allied ensigns from his many international, military and naval acquaintances. After his death in 1944 his son, Hugh Bullock kept the flags on display as a memorial to his late father.

This flag comes from the 'Richelieu'; a famous WWII French Battleship that the served both the Vichy and Free French. On the 24th September, Richelieu fought against Allied naval forces at the Battle of Dakar. In November 1942, when French forces in Africa joined the Allies, this battleship sailed to New York Navy Yard for refitting; arriving on the 30th January 1943 and leaving on the 10th October of the same year. From November of 1943 to the March of 1944, Richelieu assisted the British Home Fleet operating near the Norwegian Coast. She was eventually transferred over to the British Easter Fleet in order to stand in for British battleships undergoing refits.



According to Bullock family documentation, this was "One of the flags used aboard the RICHELIEU". It was given to Calvin Bullock by Vice Admiral R. Fenard, Chief of the French Naval Mission in the U.S., in the August of 1943. Seeing as the Richelieu was repaired at the Brooklyn Navy Yard in 1943, this flag almost certainly dates from that visit. This flag was hung on the South Wall of Calvin Bullock's office.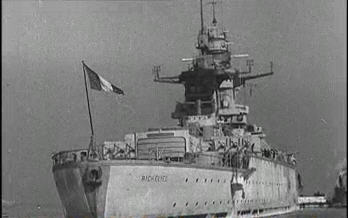 ZFC Significant Flag

Provenance:
• Free French battleship "Richelieu", 1943.
• Acquired by Vice Admiral R. Fenard, Chief of the French Naval Mission in the U.S., 1943.
• Presented to Calvin Bullock, New York, New York, August 1943.
• Calvin Bullock Collection, until passing, June 1944.
• By bequest to Hugh Bullock, until passing. 1966.
• By descent in Bullock family to daughter of Hugh Bullock, until 1997
• Purchased for the Zaricor Flag Collection by private treaty from the estate of Calvin Bullock, New York City, 1997.


Sources:

---
Mars 1943 : La corvette Aconit au combat, Corvette FNFL Aconit, Net-Marine, 16 FRENCH BATTLESHIP "RICHELIEU" video newsreel film, British Pathe Ltd, 16 November 2011, from:
http://www.britishpathe.com/record.php?id=12201
French battleship Richelieu, Wikipedia, 16 November 2011, from: http://en.wikipedia.org/wiki/French_battleship_Richelieu_%281939%29
Richelieu, World War II Database, 16 November 2011, from: http://ww2db.com/ship_spec.php?ship_id=107
Image Credits:
Zaricor Flag Collection
British Pathe Ltd,